Indulge in a sumptuous feast with the vast array of delectable cuisines offered at our signature restaurant, The Manor. Crustacean bar and bistro, The Verandah, boasts a mouthwatering selection of fresh seafoods for your enjoyment within its lush, indoor garden dining setting, while The Dining Room & The Wine Gallery presents an intimate setting for a tête-à-tête soiree. The Library offers exclusivity for those seeking a quiet spot for private entertainment, with personal attention from Masterchefs at The Penthouse Kitchen.
Gallery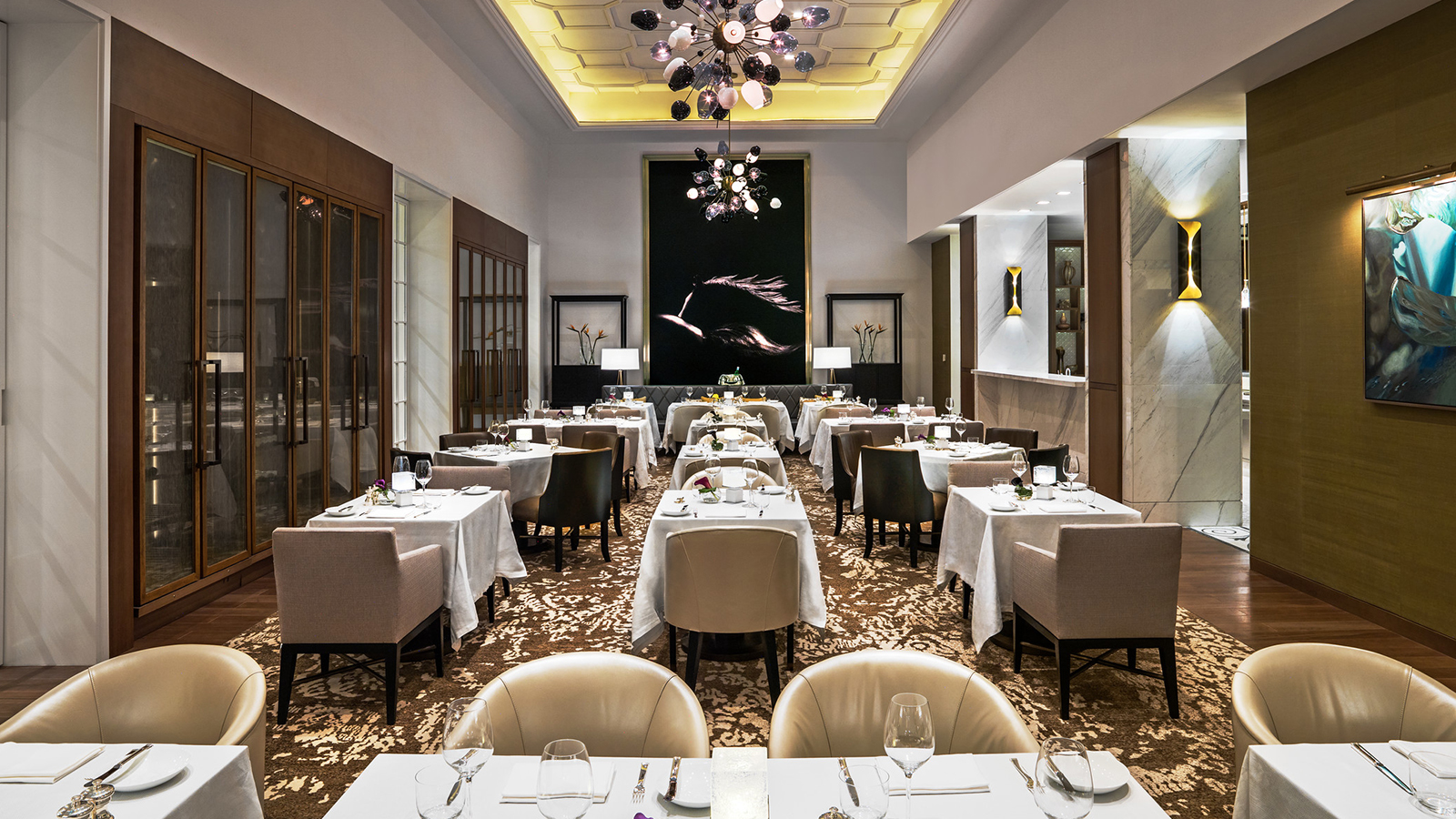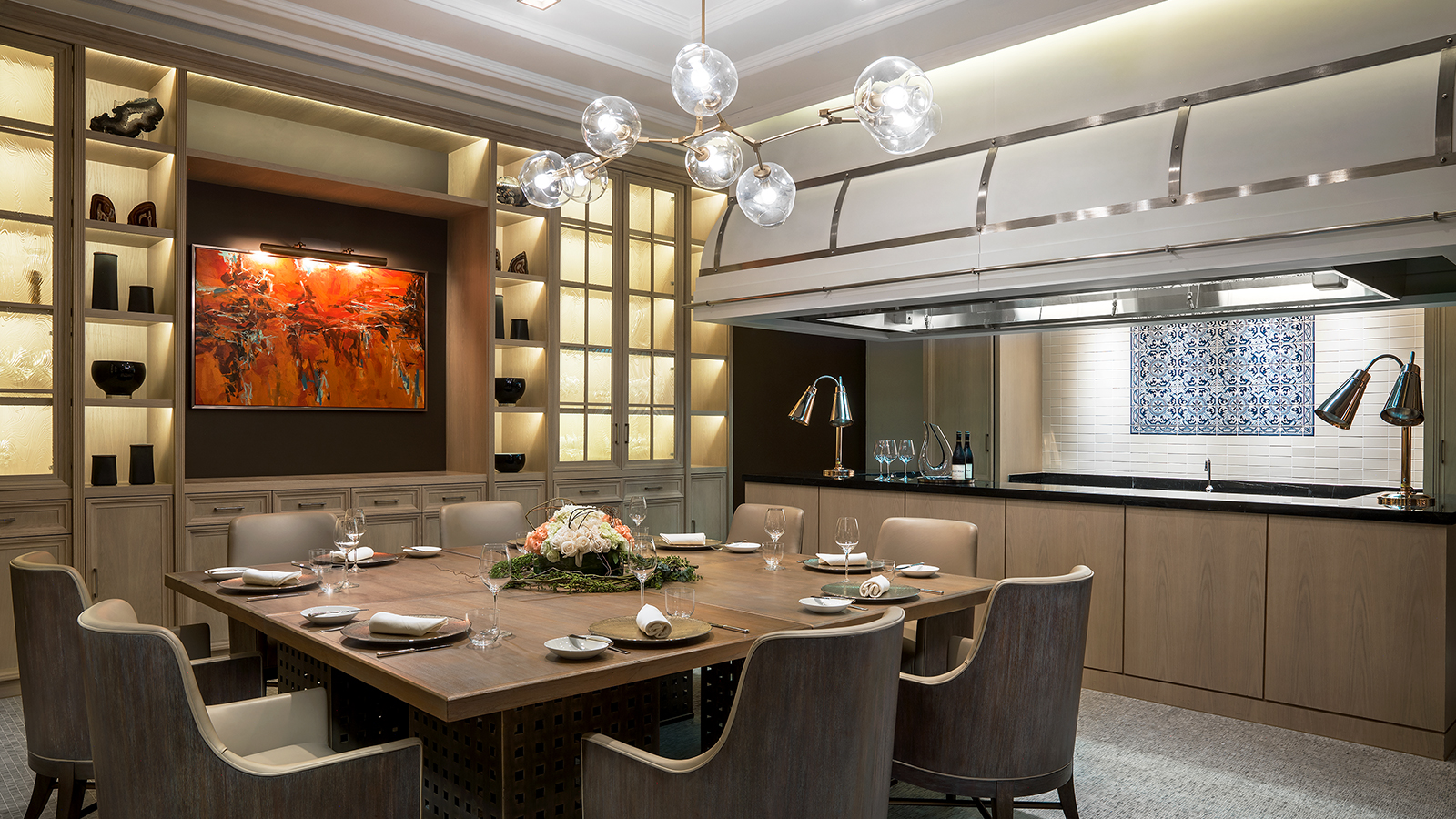 The Manor is a multi-concept restaurant, offering 5 distinct dining experiences within one elegant contemporary establishment, crafted to suit every mood and cuisine preference.
The Dining Room is the largest dining destination in The St. Regis Macao. Set in an open floor layout and serving high-end urban cuisines which departs from the traditional European fine dining experience, guests can enjoy a more refined experience while appreciating exquisitely prepared worldly produce where flavours, textures and aromas work together to tickle the tastebuds.
The Wine Gallery complements The Dining Room and offers an intimate setting for guests to engage in private conversations while being amidst an extensive range of fine wines on display. With the strategic location of the cellars, they are not only a visual spectacle for guests, but also serves an operational purpose for diners to choose and sample a vast range of labels from across the globe to complement their overall dining experience.
The Verandah presents guests with the freshest bounty from the sea in a casual bistro-style overseen by a crustacean bar. Located in a European style indoor garden with grand glass panels offering plenty of daylight, guests are presented with a wide array of light meals in a sophisticated setting. From tantalizing sandwiches, and delicate preparation of curated hams to heavenly fresh-shucked oysters and crispy salads, customers will appreciate the spread of mouth-watering and tasty starters assembled by the dedicated team of culinary experts. This is the preferred venue for exceptional seafood dining experiences or a casual aperitif and pousse-cafe.
The Penthouse Kitchen presents guests with a private dining experience, and a dedicated Chef at the helm to tailor the meal to your distinct preferences while ensuring that every minute detail of your experience is taken care of. Adjacent to the restaurant is another wine cellar housing the most formidable selection of wines from around the world to complement your specially prepared culinary masterpieces from the chef's arena.
The Library is the smallest dining venue in The St. Regis Macao but it also offers diners the exclusivity of private dining in an intimate enclave, providing a tranquil oasis away from the hustle and bustle. Unlike The Penthouse Kitchen, The Library offers a more traditional setting allowing patrons to enjoy the peaceful yet elegant serenity defined by the overall décor.
Breakfast 6:30AM - 10:30AM
Lunch (Monday - Saturday) 12:00PM - 3:00PM
Brunch (Sunday) 12:00PM - 3:30PM
Dinner 6:00PM - 11:00PM